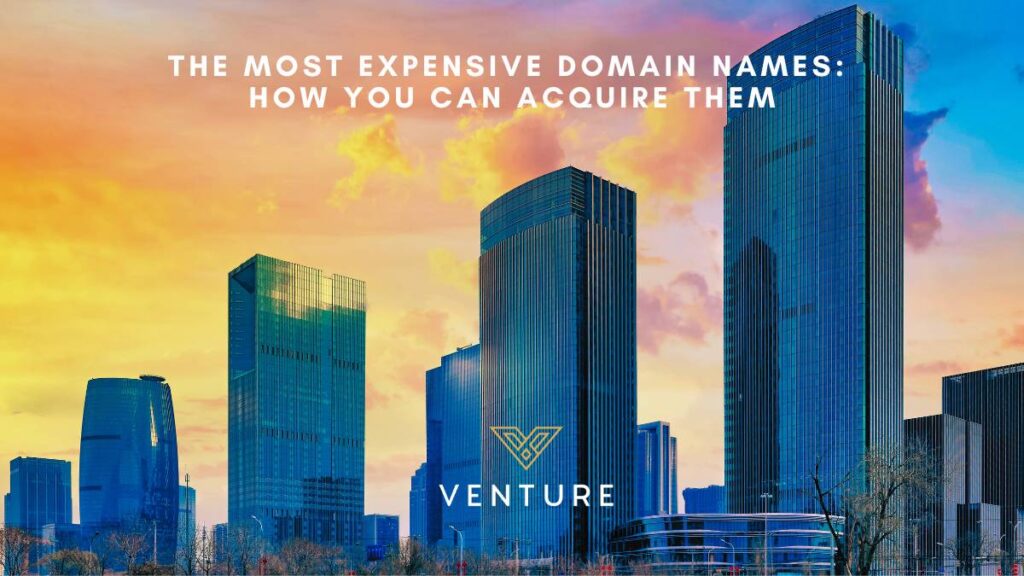 The Most Expensive Domain Names: In the vast digital landscape, securing a unique and memorable domain name is crucial for any thriving business. Most domains come with a modest price tag, but the most premium domains can fetch hundreds of thousands or even millions of dollars. These high-value domains not only possess an inherent worth but also supercharge your online presence and brand recognition, setting you apart from the competition.
As sought-after digital assets, premium domains are often snapped up by the highest bidder, transforming the domain market into a highly competitive arena.
Are you looking for a way to take your business to the next level? Do you want to stand out in your industry and create a powerful brand that people will remember? Look no further than our domain leasing platform, where you can lease some of the world's most expensive and desirable domains at a fraction of the cost of purchasing them outright.
Leasing The Most Expensive Domain Names
We understand that not every business has the budget to purchase a premium domain outright, but that doesn't mean you can't benefit from the branding and recognition that comes with owning a memorable domain name. With our platform, you can lease domains like "Bacon.com", "Suits.com, and "Driver.com" for a lifetime, giving you the opportunity to build your brand and create your dream.
Don't miss out on this opportunity to elevate your business and stand out in your industry – lease a premium domain today with our domain leasing platform.
What is the Most Expensive Domain Name Ever Sold?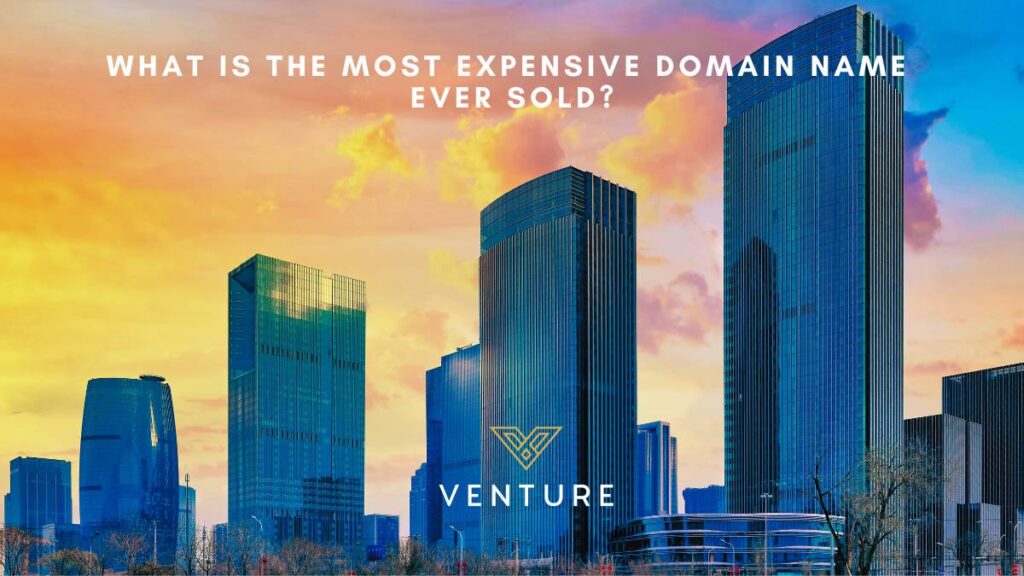 The most expensive domain name sale ever was the Business.com premium domain. This domain sale was initially purchased in 1999 for $7.5 million. But eight years later, the domain was worth 46 times more and sold to RH Donnelly for $345 million.
Initially, business.com was a business directory, but it has transformed into a source for business content and other resources over the years.
As with most premium domain names, RH Donnelly was the highest bidder outdoing New York Times, News Corp, and Dow Jones.
List of Most Expensive Domain Names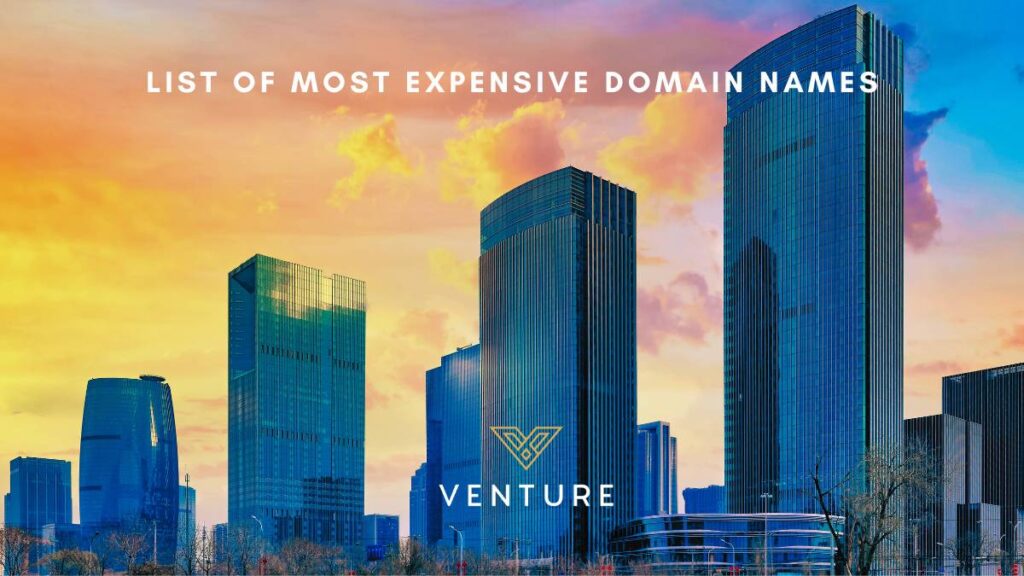 Below we explore some of the other top-selling domains in the history of the Internet.
1. LasVegas.com – $90 Million
2005 recorded one of the most expensive domain sales when VEGAS.com purchased lasvegas.com for $90 million. This was a good sale for VEGAS.com as it would help pull more searches for Las Vegas. The initial payment was $12 million, paid out to Stephens Media, and then the remaining sum would be paid in monthly installments payable up to June 2040.
2. Car Insurance.com- $49.7 Million
Carinsurance.com is yet another premium domain that made headlines with its sale. This domain was bought by QuinStreet, a marketing and online media company, in 2010 for a whopping $49.7 million.
Carinsurance.com was a leading profitable site that reviewed insurance policies geared towards consumers. At the time of purchase, carinsurance.com received 200,000 visitors a month.
3. Insurance.com— $35.6 Million
Before the purchase of carinsurance.com, QuinStreet had made headlines again in August 2010 with the $35.6 million purchase of insurance.com. In addition to the domain, QuinStreet received technology assets and media from insurance.com as part of the deal.
4. VacationRentals.com – $35 Million
Vacationrentals.com's purchase stems from a story of competition. In 2009, Exepedia had its eyes set on the domain vactationrentals.com.
However, when Brian Sharpies, the CEO of HomeAway, got wind of the news, he offered a better deal and bought vacationrentals.com for $35 million.
In an interesting turn of events, Expedia acquired HomeAway in 2015 for $3.9 billion.
5. PrivateJet.com – $30.1 Million
Don't Look Media sold privatejet.com to Nations Luxury Transportation in 2012 for $30.1 million. The purchase was in the form of cash and stock. The site was expected to reach 250,000 monthly visitors from more than 50 countries by the end of February 2012.
6. Voice.com – $30 Million
In 2019, Block.one bought voice.com for $30 million. The purchase was made by the EOS cryptocurrency creator and facilitated by GoDaddy. Unlike other domains in this list, Voice.com was a registry domain and not operational at the time of purchase.
Currently, voice.com receives 88,000 visitors per month— not a justifiable number considering the hefty purchase in 2019.
7. Internet.com – $18 Million
QuinStreet struck again in 2009 with the purchase of internet.com from WebMediaBrands.com. The vertical marketplace and online company purchased the domain for $18 million in cash. However, the deal included other websites, such as ServerWatch.com. Developer.com, and InternetNews.com.
Currently, internet.com boasts 5 million unique visitors monthly. In 2021, the domain was yet again set for auction for 35 million, although it's unclear whether it has sold.
8. 360.com – $17 Million
Vodafone sold 360.com to Chinese Entrepreneur Zhou Hongyi, the CEO of Qihoo, in 2015. Hongyi bought the domain for $17 million and planned to unify all his brands under this domain name. The entrepreneur already owned the 360.cn domain, but the 360.com purchase would elevate his brand worldwide.
360.com was a successful purchase and currently receives 23.9 million visitors, mainly from the Chinese market.
9. Insure.com – $16 Million
QuinStreet closes the chapter of today's most expensive domain names in history with its $16 million purchase of insure.com. This was the first purchase QuinStreet made before adding insurance.com and carinsurance.com to its domain investment portfolio.
Where to Get Premium Domains
There's no shortage of places you can buy premium domain names. The key is to understand where to look. Let's start with these three places.
What's a Premium Domain?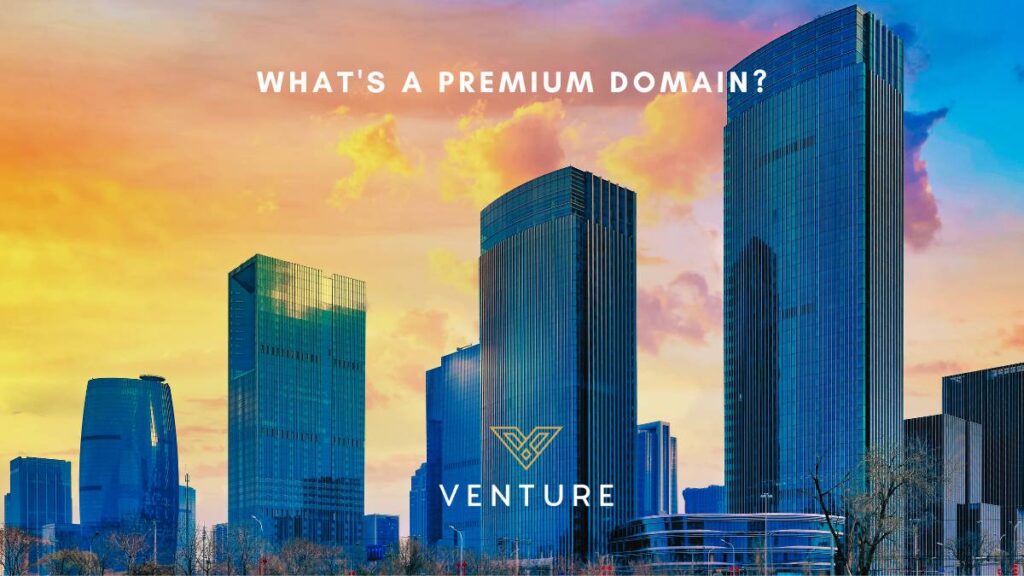 A premium domain is a high-quality domain name that stands out due to its exceptional memorability, brandability, and relevance within a specific industry. These distinctive attributes contribute to the high demand and, consequently, the hefty price tags associated with premium domains, which can range from a few thousand dollars to millions.
There are two primary categories of premium domains: aftermarket and registry
Aftermarket premium domains are already in use, connected to an established business or brand, and supported by a fully-functioning website with a solid online presence. On the other hand, registry premium domains have been registered with a domain registrar but remain unassociated with any specific business or brand.
The Most Expensive Domain Names: Qualities of a Premium Domain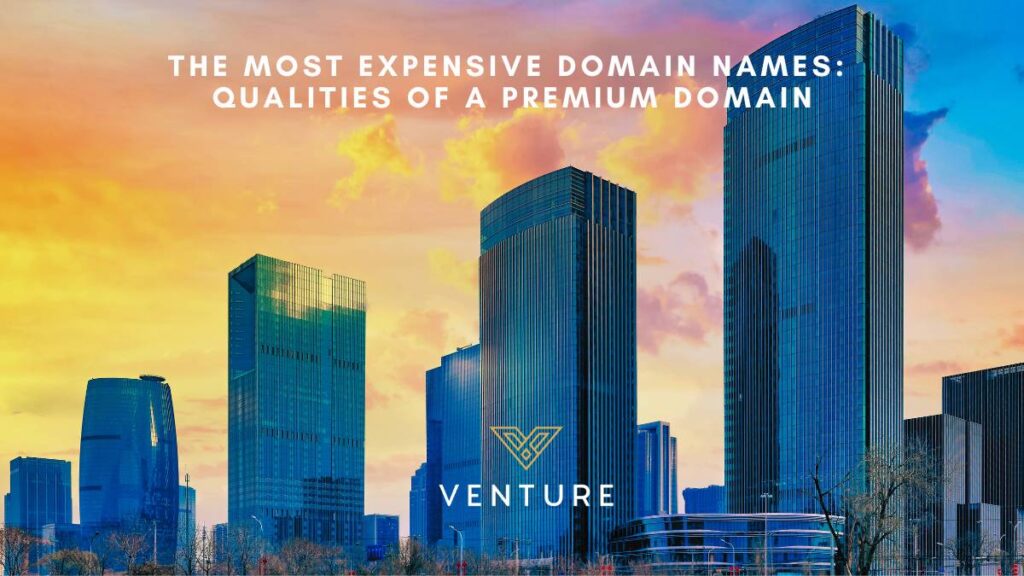 A number of elements go into the mix to make a premium domain. However, several variables across the board make a domain premium.
Short is King
Premium domains are memorable and succinct. Often, premium domains will have two to four letters, not counting the TLD. This translates to about 10 characters or less. The premium domains also exclude punctuation and numbers.
However, in rare cases, a domain may achieve premium status despite having a number or punctuation in the name. A good example of a premium domain with numbers is 360.com and there is a reason why it is one of the most expensive domain names.
Because they are easier to remember and type, short domains, particularly those with only a few letters, are frequently seen to be more valuable than lengthy domains. This increases its value for branding reasons and can result in increased traffic and awareness for the website or business linked with the domain.
Because of the rising demand for short domains, their prices might be much higher than those for larger names with equivalent keywords or content. Furthermore, shorter domains are more scarce and there are fewer of them available, driving up the price even more.
As a result, short domains are frequently seen as precious assets, commanding high prices in the domain market.
The Most Expensive Domain Names: Domain Authority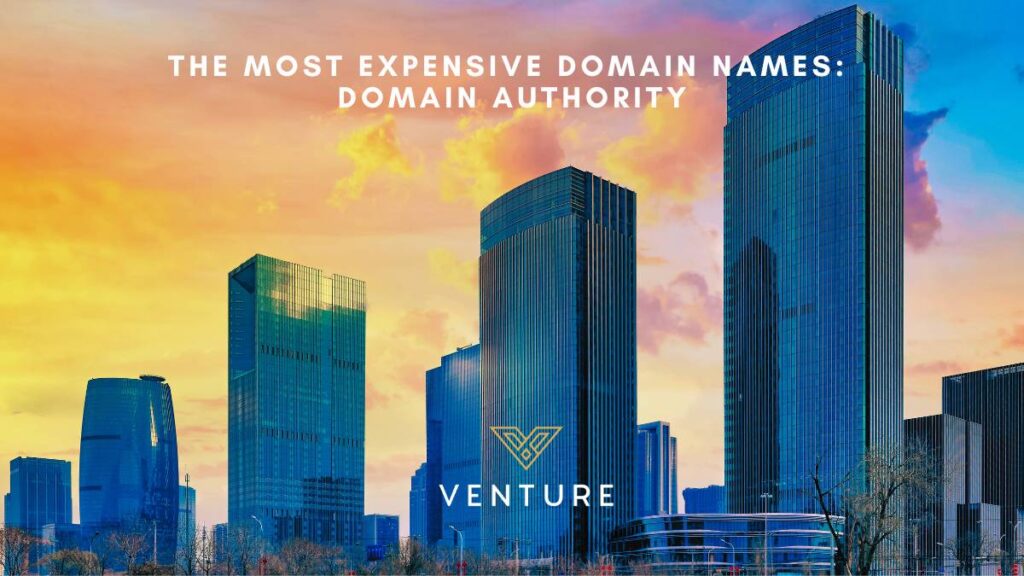 Domain authority(DA) is an SEO score that predicts how well a domain will rank on the SERPs. The DA can be measured using tools like Moz and Ahrefs. Premium domains usually feature a high domain authority as a result of relevance to the industry and a strong current or historic online presence.
The Most Expensive Domain Names: Brandable with a Hint of Uniqueness
Domain names that are easier to build a brand around cost the most. A domain's brandability depends on its online presence, relevance to the industry, and memorability. These aspects are all key concepts for winning over customers online.
Trustworthy TLD
The last string of characters at the end of a domain is the top-level domain. This small section also determines whether a domain is premium or everyday basic.
Currently, one can register domains with any of the tons of TLDs approved by ICANN. Examples of common TLDs include .com, .io, .AI, .org, .it, .net, .skills, .inc, .org, .gov, and more.
In most cases, premium domains utilize .com TLD. In fact, the .com TLD is used in almost half of all websites. Premium domains usually feature the .com TLD because it's recognizable and widely used.
That said, premium domains can also feature another TLD as long as it's relevant to the target audience.
The Most Expensive Domain Names: Domain Contains Keywords
Keywords in a domain name have a huge effect on your SEO efforts.
Domain Marketplace
Domain marketplaces are specialized online markets dedicated to selling and buying premium domains. These markets carry thousands of premium domains from several industries ready for purchase. Domain marketplaces also allow you to compare offers and get more information about a seller or domain.
Domain Registrars
Domain registrars are companies allowed by ICANN to sell domains. These registrars are also a great source of high-value premium domains.
Domain Leasing Platforms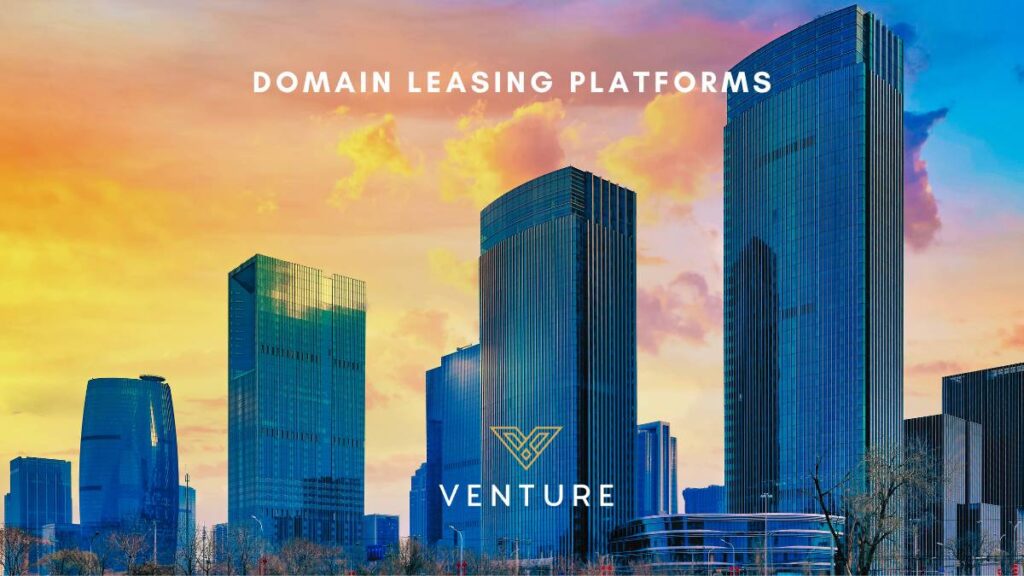 A domain leasing platform enables you to access a premium domain through leasing. It provides a step in the gap enabling you to use a high-quality domain for your startup without the substantial upfront cost. A prime example of a domain leasing platform is Venture.com, which offers lifetime domain leasing. Catering specifically to budding businesses, this platform offers customizable leasing periods to suit individual needs, and the flexibility to cancel a lease anytime without penalties.
Wrap Up: The Most Expensive Domain Names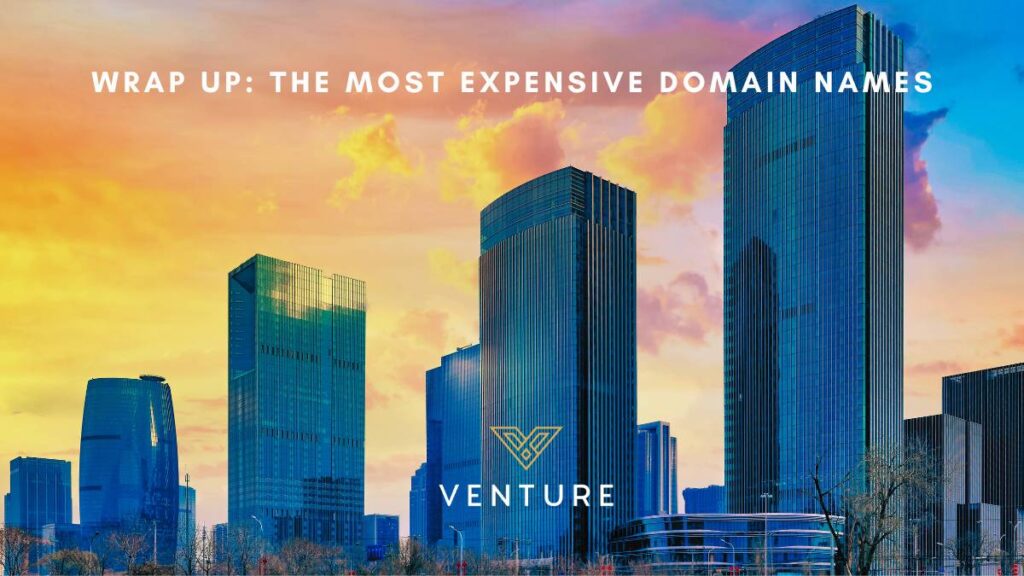 The value of a domain name doesn't solely lie in its price. The most effective premium domains are those that are memorable and brandable, contributing to a robust online presence for your business.
Before committing to an acquisition, it's crucial to conduct thorough research, such as performing a WHOIS lookup and a trademark search, to verify the domain's history and ownership.
If you're interested in acquiring a premium domain in a smart cash flow way, don't hesitate to get in touch.